Skillbook

A Skill Book, also known as SB or Alt, is an alternate skillset of a character.
A Skill Book also gives the character a new color scheme, as such, they are also refered as "Skins". However they must not be confused with Cosmetic Skins.
To obtain a Skill Book, players must first have the base character of said Skill Book, then the Skill Book would be available to acquire, regardless of the base character's tier. Although it's still highly advisable that players resonate or exceed the base character, since getting a Skill Book do not affect the Attack or HP stat of the character.
A character's Skill Book can be accessed through its character page, by tapping on the arrows next to the character's title. Most Skill Books are available for direct purchase in the character page with 1990 Crystalline. Occasionally, there will be event market that offers discounted Skill Books at the price of 1490 Crystalline.
Some Skill Books are given out as rewards in limited-time events. After the event concludes, these Skill Books will be available in the Medal Exchange facility for 600 Guild Medals. So far, there has only been 2 cases: Pang's Radiant Master and Tica's Holly Maiden.
So far, 31 out of 56 characters have a Skill Book. Skill Books of SP Characters do not exist.
Skins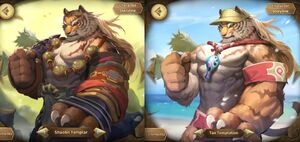 Cosmetic Skins are, as the name suggests, skins that offer a change to the asthetics of a character. As opposed to Skill Books, they do not change the skillset of a character.
The only exception is Tica's Christmas Skin.
Skins are rewards from seasonal events and are only obtainable during the duration of such, like Nolva's 2019 Halloween Skin. Unlike Skill Books, you can get a Skin even if you don't own that character.
Only 9 characters possess Cosmetic Skins, with Pang being the only one to have two.
Community content is available under
CC-BY-SA
unless otherwise noted.