Resonance is the increase of a character's Tier. Resonance can change the skills and increase the character's stats.
There are 4 tiers in total: N, R, SR, SSR. At tier SSR, the character can further resonate 10 more times to increase their stats, but their skills will not change.
Resonance
Resonance Summary
This summary shows the number of materials required for the resonance of Ned as an example.
This summary isn't accurate for every character. In order to know the proper resonance materials, please refer to individual character pages.
Resonance Level
Tear
Regional Material
Soul Enery
Character Mineral
Curren
  to   (??)

x1

x2

x6

x5

x100
  to  

x1

x6

x6

x15

x3000
  to  

x1

x6

x8

x30

x10000
Exceed: +1, +2
-

x1

x2

x10

x2000
Exceed: +3, +4
-

x2

x2

x10

x3000
Exceed: +5

x2

x2

x10

x4000
Exceed: +6

x3

x3

x10

x4000
Exceed: +7, +8
-

x3

x3

x10

x5000
Exceed: +9 (??)

x?

x3

x10

x?
Exceed: +10

x4

x3

x10

x6000
Exceed: +11 (??)

x1

x4

x4


x4

x10

x4000
Exceed: +12 (??)

x1

x4

x4


x4

x10

x4000
Exceed: +13 (??)

x1

x4

x4


x4

x10

x4000
Convert

x2
-
-

x10

x2000
Materials for Resonance
In order to resonate a character, one must have the required amount of the following materials: Resonance Soul Energy, Region Material(s), Tear, Curren and Character Mineral(s).
The type and amount of resonance soul energy required depends on the type and rarity of the characters.
The region material needed for resonance depends on the character. A list of region materials, as well as the quantity needed for resonance, can be found below.
Tears are required for resonance. The tears needed, in increasing order of rarity, are:
Exceed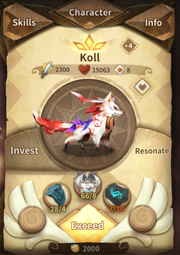 When a character reaches tier SSR, the option to Exceed said character will be available.
Each time an exceed is performed, the character's exceed tier will go up by one level, denoted by a + (plus) symbol and a number next to the character's name. A character can be exceeded up to +11.
With every exceed, 50 Attack and 300 Health are directly added to the unit's base stats, and when the character is exceeded to +6 or higher, a small percentage increase is applied to their stat as well.
Exceeding consumes Character Minerals

, Advanced Region Materials, Resonance Soul Energy, Refined Soul Energy and Curren.
Convert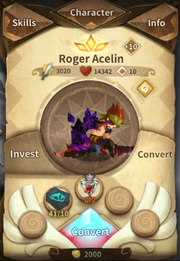 Convert option is available when a character has reached Maximum Exceed. It serves as a reliable method to craft Origin Stone for Contract Crafting.
To perform Contract Crafting, players need to accumulate a specific number of Origin Stones required, which can then be used to craft any of the available characters in Contract Crafting.
This is done by converting 10 Character Minerals

, 2 Tear of Dragon Slayers
, and 2000
into 1 Origin Stone

.






See Also

Community content is available under
CC-BY-SA
unless otherwise noted.