Voicelines
Trivia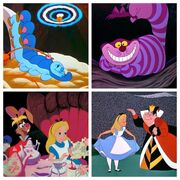 Nolva SP is heavily influenced by the fantasy novel of English author Lewis Carroll: Alice in Wonderland, with many references to the novel within her character design, lore, skillset and animation.

Nolva SP's design is based on Alice, the novel's protagonist. And Waverlyde's design is based on Cheshire Cat.
A white rabbit, card soldiers and a tea party can all be seen in her skill animations, which are iconic characters and themes featured in the novel.

Nolva SP used to have a different splash art, shown in a promotional image before her official release in Sleepwalk Infuse. Her splash art has since been changed.
Gallery
In Other Languages
| Language | Name |
| --- | --- |
| Japanese | ノルヴァ・カーペンター (Noruva Kāpentā) |
| Chinese (Traditional) | 諾瓦・卡潘特 (Nuòwǎ Kǎpāntè) |
| Chinese (Simplified) | 诺瓦・卡潘特 (Nuòwǎ Kǎpāntè) |
| Korean | 노바・카펜터 (Noba Kapenteo) |
See Also
Nolva, original black-position character.