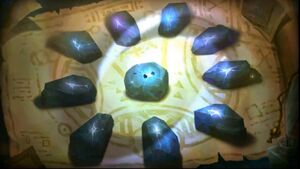 Infusion is a gacha system that provides the players with the opportunity to either unlock new characters or gain character minerals to upgrade their existing ones.
Rolling for Infusion
To attempt Infusion, players need to have sufficient Crystals or Bookmarks.
Players can choose between single infusion or 10 times at once, with the latter guaranteeing one SR or higher character.
Occasionally, there are rate up events which increase the chance of obtaining a specific character, as well as having the chance to obtain the SSR version of that character, or events that increase the 10 times infusion's guaranteed bonus.
Notes:
One attempt costs 50 Crystals and 10 times requires 500 Crystals.
Million Infuse Bookmark and Time Bookmark may only be used for 1 or 5 attempts regardless of the amount possessed.
Million Infuse Bookmark can only be used for Million Infusion. Time Bookmark can only be used for Event Infusion, such as character's rate up events.
The benefit of rolling 10 times at once is a guaranteed SR or higher rarity character. This can change depending on the current event.
Upon receiving duplicates, players will be rewarded with character minerals corresponding to the duplicate's rarity:

N provides 1 Character Mineral
R provides 5 Character Minerals
SR provides 20 Character Minerals
SSR provides 50 Character Minerals
Rate Up Banners
Current Banner
Current Banner
Beauty & the Beast Infuse
January 30 - February 12
Past Banners
2019 Banners

Beauty & The Beast Infuse
January 30 - February 12

New characters Pang SP and Hestia SP are here!

Quiet Lady Infuse
January 16 - January 29

Trickery Infuse
January 2 - January 15

Mysterious strategist Hyde is here!
2018 Banners

Childish Infuse
December 19 - January 1

Lisa SP, Leah SP, Lio SP are all here!

Ritual Infuse
December 5 - December 18

New characters Fatima SP is here!

Fatima SP  SSR now available!



Melody Infuse
November 9 - December 4

New characters Deemo and Masked Girl are here!

Deemo   Masked Girl  SSR now available!

Carnival Infuse
October 31 - November 13

Tica SP new character coming soon!

Tica SP  SSR now available!

Sleepwalk Infuse
October 17 - October 30

Sleepwalk Infuse, Nolva SP is here!
Kittyeyes SP will join Sleepwalk Infuse on the second week!

Nolva SP   Kittyeyes SP  SSR now available!

First Step Infuse
October 3 - October 16

First Step Infuse, new character Elio is coming very soon!

Not-Bear Infuse
September 19 - October 2

Not-Bear Infuse, New character Leah SP coming soon!

Leah SP  SSR now available!

Time Infuse
September 12 - September 25

Return characters only!

Soaring Infuse
September 5 - September 18

Soaring Infuse, New character Lio SP coming soon!

Lio SP  SSR now available!

Daughter Infuse
August 22 - September 8

Daughters Infuse, new SP character Lisa SP is here!

Tanabata Infuse
August 8 - August 21

Angelia SP will be available for a limited time!

Angelia SP   Lisa   Sione  SSR now available!


Trader Infuse
July 25 - August 7

New character Karen is rolling into town!

Teatime Infuse
July 11 - July 24

Teatime Infuse is calling Kittyeyes SP to the picnic party!

Kittyeyes SP  SSR now available!

Inari Infuse
June 19 - July 10

Introducing the adorable yet unpredictable Izumi!

Bond Infuse
May 30 - June 19

Yamitsuki SP & Nigel SP now available!
The two childhood friends are on stage together, donning Japanese style attire to become brand-new characters!

Brilliant Infuse
May 11 - May 29

Sione SP   Angelia SP   Dylan SP available for a limited time!
New portraits and different positions, creating even more variety in combat for fellow Watchers.

Broken Wing Infuse
Apr 30 - May 6

Broken-winged maiden Shirley is here!

Shirley   Theodore   Yamitsuki rate up!
Chance to get them at SSR

Harvest Infuse
Apr 23 - Apr 29


SR characters rate up!
Get some new comrades, embark on your adventures!



Burning Infuse
Mar 4 - Mar 12


New black SSR character Dylan SP

Dylan SP SSR available!

Dylan rate up!



Miracle Infuse
Feb 14 - Feb 20

Rare characters rate up!
The night where miracles happen; awaken the souls of your dreams.

Charle   Leah   Sione   Yamitsuki   Lisa   Sharice   Fredrica rate up at the same time!

Saber's Infuse
Feb 6 - Feb 16

New white SSR character Sione SP

Sione SP SSR available!

Sione rate up!

Princess' Infuse
Jan 16 - Jan 21

New black SSR character Angelia SP

Angelia SP SSR available!

Angelia rate up!
2017 Banners

Seductress's Infuse
Dec 20 - Jan 3

New character, Kingdom Rune Sorcerer Fredrica

Fredrica SSR available in Seductress's Infuse!

Fredrica added to Million Infuse as well

Academy Infuse
Nov 28 - Dec 5

Charle SSR available

Charle Rate up

SR Character Guaranteed with 10 times

Hunter Infuse
Nov 28 - Dec 5

Ned SSR available

Ned SR Rate up

SR Character Guaranteed with 10 times

Frost Festival
Nov 21 - Dec 12


It's time for the annual Frost Festival.
For a limited time, SR Character Guaranteed for 10x Infuse!



Lancer Infuse
Nov 7 - Nov 21

New limited character debut!

Sharice SSR available

Beast Infuse
Oct 25 - Nov 8

Golemwalt SSR available

Golemwalt SR Rate up

Dancer Infuse
Oct 18 - Oct 25


Lisa SSR available

Chieftan Infuse
Sept 27 - Oct 10


Crushfang SSR available

Warrior Infuse
Sept 13 - Sept 26


Dagger SSR available
Tips and Trivia
Because of the guaranteed SR (or higher) at no extra cost, it is always better to save crystals for the 10 times infuse.
See Also