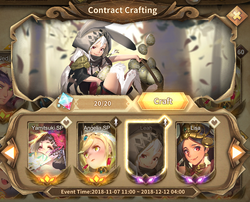 Contract Crafting is a system that allows players to exchange Origin Stones for characters at tier R, SR or SSR. Between five and ten characters are typically available at a time, including a selection of uncommon and rare characters in addition to limited SP characters. The rare and limited characters in the current cycle also determine the rare and limited characters available through Origin Infuse.
The Contract Crafting menu can be accessed at the bottom left corner of the Infuse tab.
Overview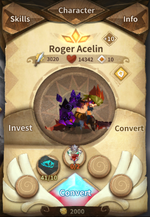 To perform Contract Crafting, players must first obtain a character who has been exceeded to their maximum potential (currently +15).
Then, the option to Convert will be made available.
Players must gather 10 Character Minerals

of said character, 2 Tear of Dragon Slayers
, and 2000

, all of which can then be converted to obtain 1 Origin Stone

Requirements
Contract Crafting is only available for characters the player does not own. All characters are available at a resonance tier equal to their rarity (e.g. uncommon characters are R only, while SP characters are SSR only).
| Value | Cost | Value |
| --- | --- | --- |
| Uncommon (R) | 5 | |
| Rare (SR) | 20 | |
| SP or Limited (SSR) | 50 | |
Cycles
The following table shows every cycle of Contract Crafting.
Note: bold means the cycle is the latest and current cycle
See Also