Virtue Virtuoso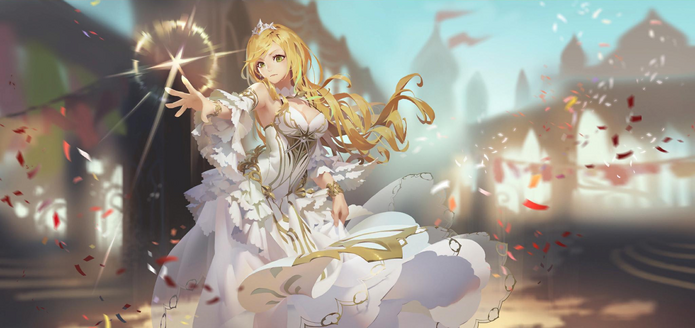 Battle Info
Base Stats
Attack
68
Health
240
Revive
8
Skills
[Passive Skill] Helpful Halo
Upon cast Armor, if target has  Exhaust/ Vulnerability, increase skill power by 100%.
[Advisor Skill] Angelic Aura
Grant selected ally ( x 0.72) Armor. [CD: 1]
[1-orb skill] Wing And Prayer
Grant front row ally ( x 0.6) Armor, trigger 1-orb skill.


Trigger Limit

[2-orb skill] Let Us Pray
Grant all player characters ( x 0.72) Armor, grant  Damage Reduction.
[4-orb skill, square] Prayer Player
Heal ( x 1.8) front row ally, grant  Exhaust, trigger 4-orb skill.


Trigger Limit
Resonance
Resonance Level
Tear
Regional Material
Soul Energy
Character Mineral

Curren
Exceed: +1, +2
-

x1

x2

x10

x2000
Exceed: +3, +4
-

x2

x2

x10

x3000
Exceed: +5
-

x2

x2

x10

x4000
Exceed: +6
-

x3

x3

x10

x4000
Exceed: +7, +8, +9
-

x3

x3

x10

x5000
Exceed: +10
-

x3

x4

x10

x6000
Exceed: +11

x1

x4

x4


x4

x10

x6000
Exceed: +12

x1

x4

x5


x5

x10

x6000
Info
♦ Angelia Carlos

The Kingdom of The Sun's beloved princess, kind and gentle, clever and wise. Raised in a castle surrounded by friendly faces, she feels deep and genuine compassion for her subjects. Lacking worldly experience, she can be rather unsuspecting of others and a bit too trusting.
An idealist who oversimplifies matters of the state, she is often accused of naivety when proposing impractical strategies.
Attaches great importance to the relationships between people; during crucial moments she finds it hard to focus when difficult decisions have to be made.
But once dressed in her royal robes, she carries the Kingdom's responsibilities on her shoulders with newfound pride.
♦ 19 yrs old (16th of Dew month)
♦ 165 cm
♦ CV: Sora Amamiya
Community content is available under
CC-BY-SA
unless otherwise noted.