Aristocrat Brat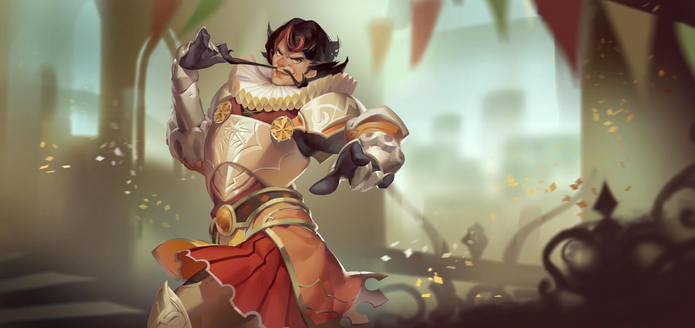 Battle Info
Stats (Lv.60)
Attack
1483
Health
11875
Revive
10
Skills
[Passive Skill] Jump Grope
Upon incoming damage skill, if have Taunt, retaliate with Attack ( x 1) against selected enemy.


Retaliate Limit

[Advisor Skill] Trick Is Treat
Upon incoming damage skill against ally, if ally have Taunt, 20% chance to trigger target 4-orb skill.
[1-orb skill] Dead Giveaway
Grant self Taunt for 5 turns. Reset front row enemy CD.
[2-orb skill] Dead Wait
Grant self Taunt for 2 turns and Damage Reduction. If have Taunt, Heal ( x 1.8) self instead.
[4-orb skill] Knock 'Em Dead
Attack ( x 3) selected enemy.
Resonance
| Resonance Level | Tear | Regional Material | Soul Energy | Character Mineral | Curren |
| --- | --- | --- | --- | --- | --- |
|   to   | x1 | x6 | x12 | x15 | x1000 |
Info
♦ Jahan Augustinus

Colonel of Kingdom of The Sun's Royal Infantry. Heir to a destitute noble house and object of constant ridicule from other nobles, he swore he would ascend to the highest levels of power, no matter what the cost.
Selfish and mean, he delights in bullying others. He flatters his superiors outrageously, while making the lives of his subordinates miserable.
Sloppy, careless and constantly overlooks important details. He is an accomplished brownnoser who claims to be Theodore's right hand man.
♦ 32 yrs old (31st of Dew month)
♦ 168 cm
♦ CV: Takehito Koyasu